Hello! My name is Alyssa but I have been creating fantasy art under the pen name "Faerydae" for decades. I have been drawing all my life and over the years I have dabbled in pretty much every medium I could get my mitts on!

Mermaids however have always held a special spot in my heart and it only seems to deepen as the decades pass. I joke that it's because I am a Pisces that I have such an affinity for the merfolk – but perhaps that really so far off the mark. LOL!

For years I created and ran a community forums and website for mermaid artists to share their artwork as well as OOAK sculptors but due to various circumstances I was not able to keep them going. Although I did create a Facebook group for Mermaid Artists and Collectors – I haven't been as active there as I had hoped to be, but it's open for all mermaid artists to promote their artworks and creations, regardless of their skill level. <3

I grew up on fairytales that were dark, gloomy, dangerous, and often tragic – the fae and mermaids I grew up loving were not friendly to humankind, and woe to the human that stumbled across their paths if they were of a mind to amuse themselves with an unwitting victim!

That being said I have always felt that the most dangerous beings and creatures are the ones that look sweet, lovely, beguiling, weak, innocent or lascivious. 🙂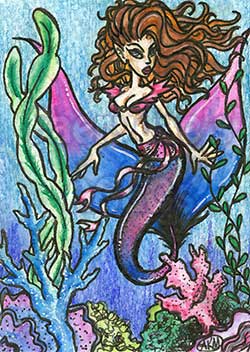 My mermaids often tend to fall into the more "sexy" spectrums – but I consider nudity to be artistic if done correctly, and clothes and mermaids never really did make much sense to me, even as a young child.
I do sometimes open for commissions – but it's pretty rare these days as I prefer to create what moves me – when it moves me.

But I also enjoy creating sweet, lovely mermaids like Celine here on the left, I just create art as my muses move and pester me to do so, the little vixens! LOL!
I will offer mermaid-themed jewelry, prints, original paintings and illustrations, sculptures and art dolls on this website, but I do have other websites and storefronts for my other passions.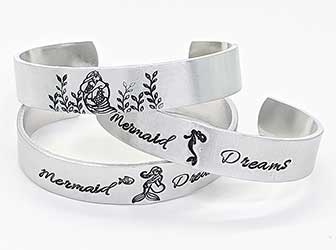 One of those passions is creating handmade artisan jewelry and my website for that is Arcane Moon Jewelry – always happy to do custom pieces, so if you are interested in unique, custom pieces of jewelry you can see more of the art jewelry that I create on that website (I will only post mermaid-themed pieces on this website).
I hope that you enjoy my work and check back often!